intercommunal dialogue 1 & 2
In 2007, more than 35 years after the release of the legendary album intercommunal music, François Tusques and Sunny Murray shared the stage again to revive the spirit of the seminal era in which the historic recording session organised by Daniel Caux for Shandar had taken place. intercommunal dialogue 1 & 2 documents a concert that was recorded as part of the film portrait Sunny's time now. While both men might have toned down their revolutionary ardour, their second encounter is a musical treat, studded with reminiscences of free jazz "standards" such as the famous Portrait of Ericka Huggins and framed by more recent compositions by Tusques.
intercommunal dialogue 1 & 2 captures the ultimate meeting of two giants of free jazz. This double album is the first in a series of previously unpublished concerts that Ni-Vu-Ni-Connu-Productions are releasing in a tribute to Sunny Murray, who passed away in December 2017.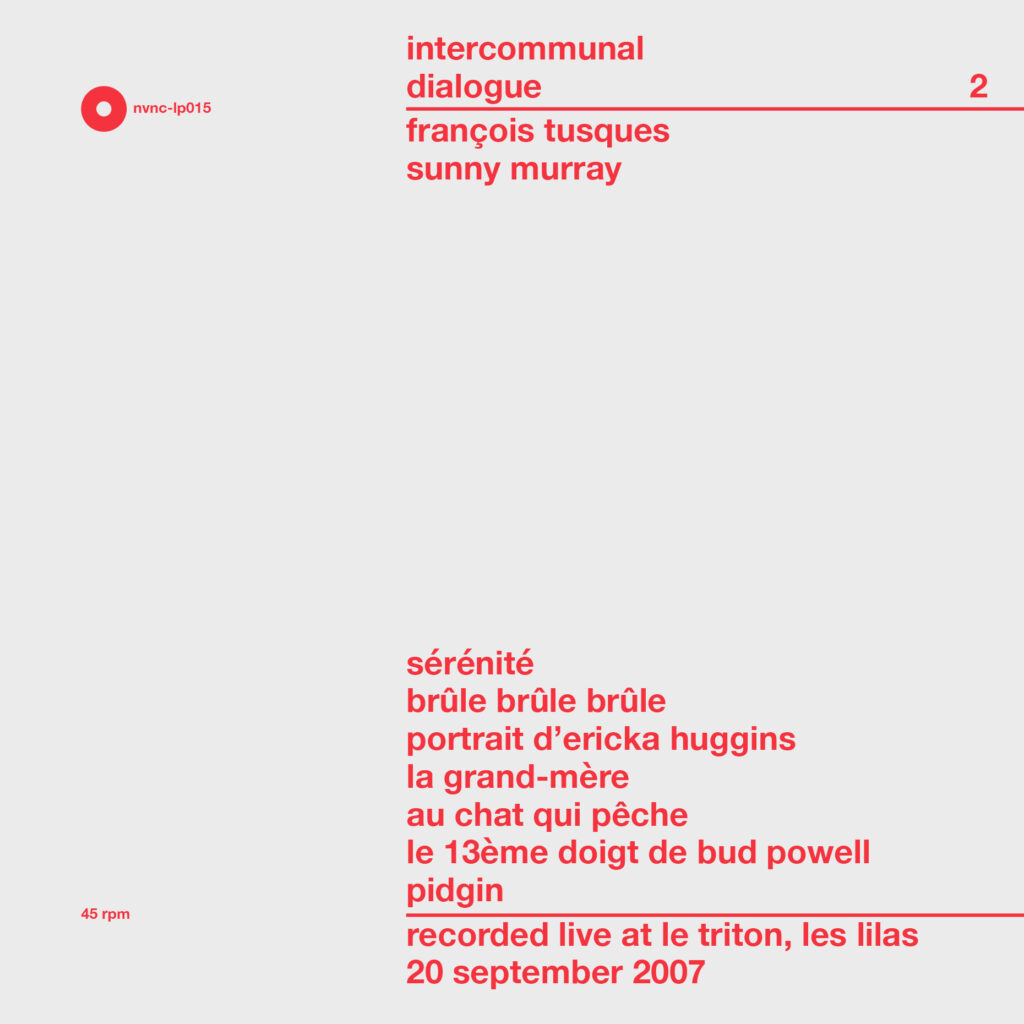 "How do two musicians who do not talk to each other start a dialogue? How do these two musicians exchange news? Their conversation is recorded and more or less entirely reproduced on these records: you can listen to it. François Tusques's percussive piano shapes the contours of a continent he is exploring, blues tunes in B-flat, occasionally departing from the scale to avoid confining himself in tonal music. There are evocations of Duke Ellington (Jungle des villes), Alan Shorter (L'Acrobate), Coltrane, Dolphy (Éternité), Dollar Brand (Circonspection). Murray, a magician and witch armed with drumstick and broomstick, launches wave after wave over the mementos passing before the pianist's mind's eye and makes them swing. As the evening proceeds, they conjure the old masters (Monk: Crepuscule with Nelly) and common struggles (Portrait of Ericka Huggins). Huggins, then a member of the Black Panther Party, has only recently found out that a piece was dedicated to her and that her portrait adorned the first album on which it was recorded (Intercommunal Music). (…) How are musicians talking to each other? Without words: by creating, in dialogue, unique musical moments. And while we may not be the addressees, we are the beneficiaries of their creations."
—David Faroult
François Tusques piano
Sunny Murray drums
1. dans la jungle des villes 4:24
2. les fleurs du grand cronope 3:04
3. dans la jungle des villes (suite et fin) 1:15
4. l'acrobate 3:11
5. éternité 1&2 3:31
6. circonspection 3:13
7. crepuscule with nellie (monk) 4:20
Recorded at Le Triton, Les Lilas
Recording Jacques Vivante
Mixing Maïkôl Seminatore
Mastering Andreas "Lupo" Lubich
Produced by Antoine Prum for Ni-Vu-Ni-Connu Productions
nvnc-lp014
45 rpm
François Tusques piano
Sunny Murray drums
1. sérénité 3:25
2. brûle brûle brûle 2:34
3. portrait d'ericka huggins 5:32
4. la grand-mère 2:09
5. au chat qui pêche 3:31
6. le 13ème doigt de bud powell 2:03
7. pidgin 2:33
Recorded at Le Triton, Les Lilas
Recording Jacques Vivante
Mixing Maïkôl Seminatore
Mastering Andreas "Lupo" Lubich
Produced by Antoine Prum for Ni-Vu-Ni-Connu Productions
nvnc-lp015
45 rpm
Related