An evening at Fasching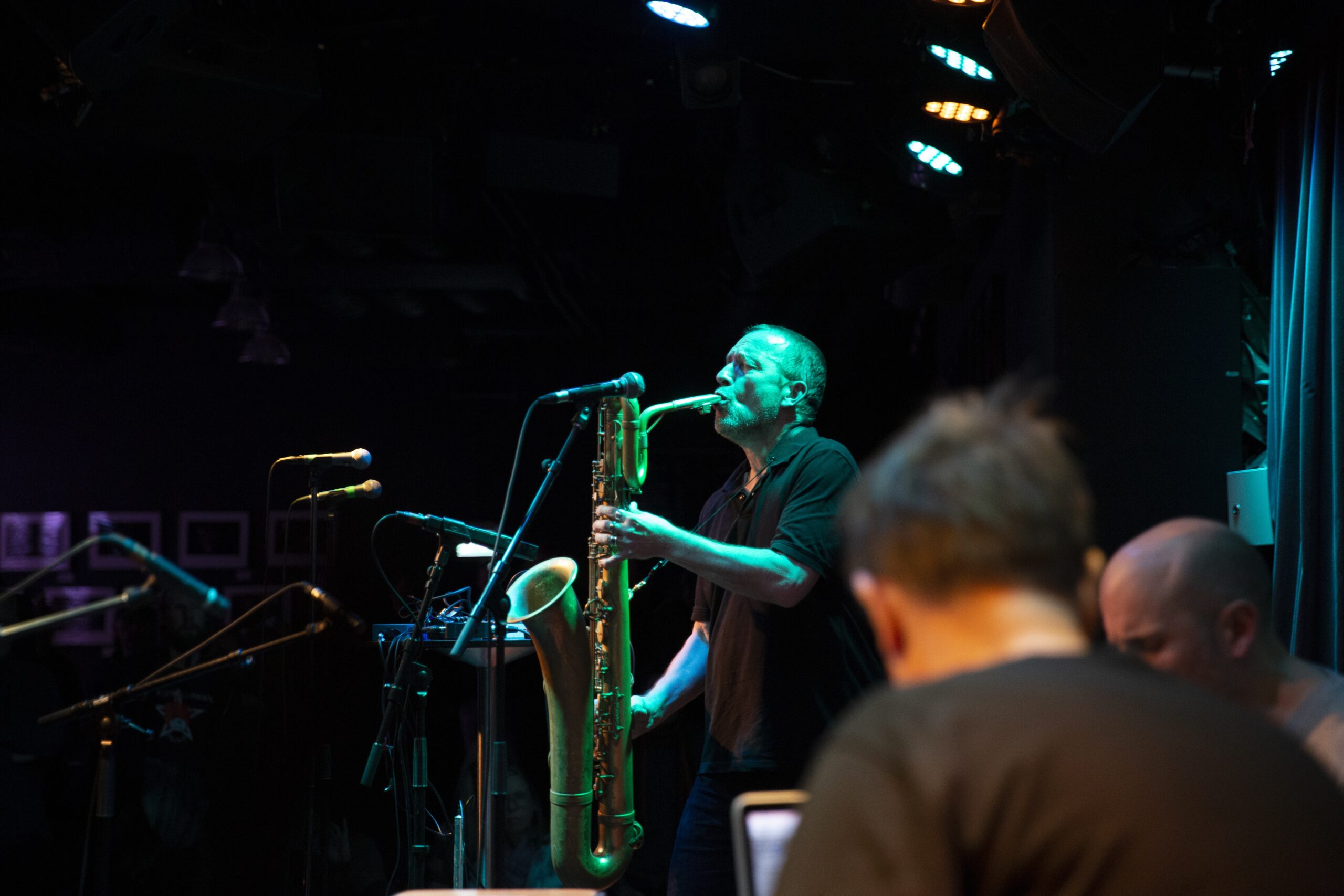 The Music of Freedom
Johan Hauknes
FASCHING, STOCKHOLM, WEDNESDAY 15 FEBRUARY 2023: Sometimes you feel like the little boy you once were, the boy who looks forward to Christmas or his birthday – and fantasises about what he will get. The times those fantasies become reality can be counted on one hand. Personally, I don't know how many times I wished for a Märklin train set! A racetrack would be fine too.
But then an electric train set…! What a dream: A complete NSB set in H0 scale, with an El13 locomotive and three or four Type B3 coaches, a Di3 locomotive with freight wagons. And then of course steam: an NSB 63 "Stortysker" ("Grand German"). That would have been something. But it never became a reality… Since then, other, equally striking trains have taken over my dreams. On the other hand, it's the dreams of what could be that make life worth living. Because it's in the dreams and the longing for what we dream of that we find the power to push on, isn't it?
But some dreams do come true. Some dreams become reality. When Mats Gustafsson first told me that the vinyl box set documenting and commenting the distinctive – and, in his own time, often misunderstood – music of saxophonist Bengt Nordström, nicknamed "Frippe", was nearing completion after decades of work, it also triggered dreams. When he announced in late autumn 2022 that this box would be launched with a big Frippe party at Fasching on 15 February, it was pretty much a given, for some of us, where we wanted to be that day. This was going to be one of 2023's biggest events. No question about it. This time, the dream would come true.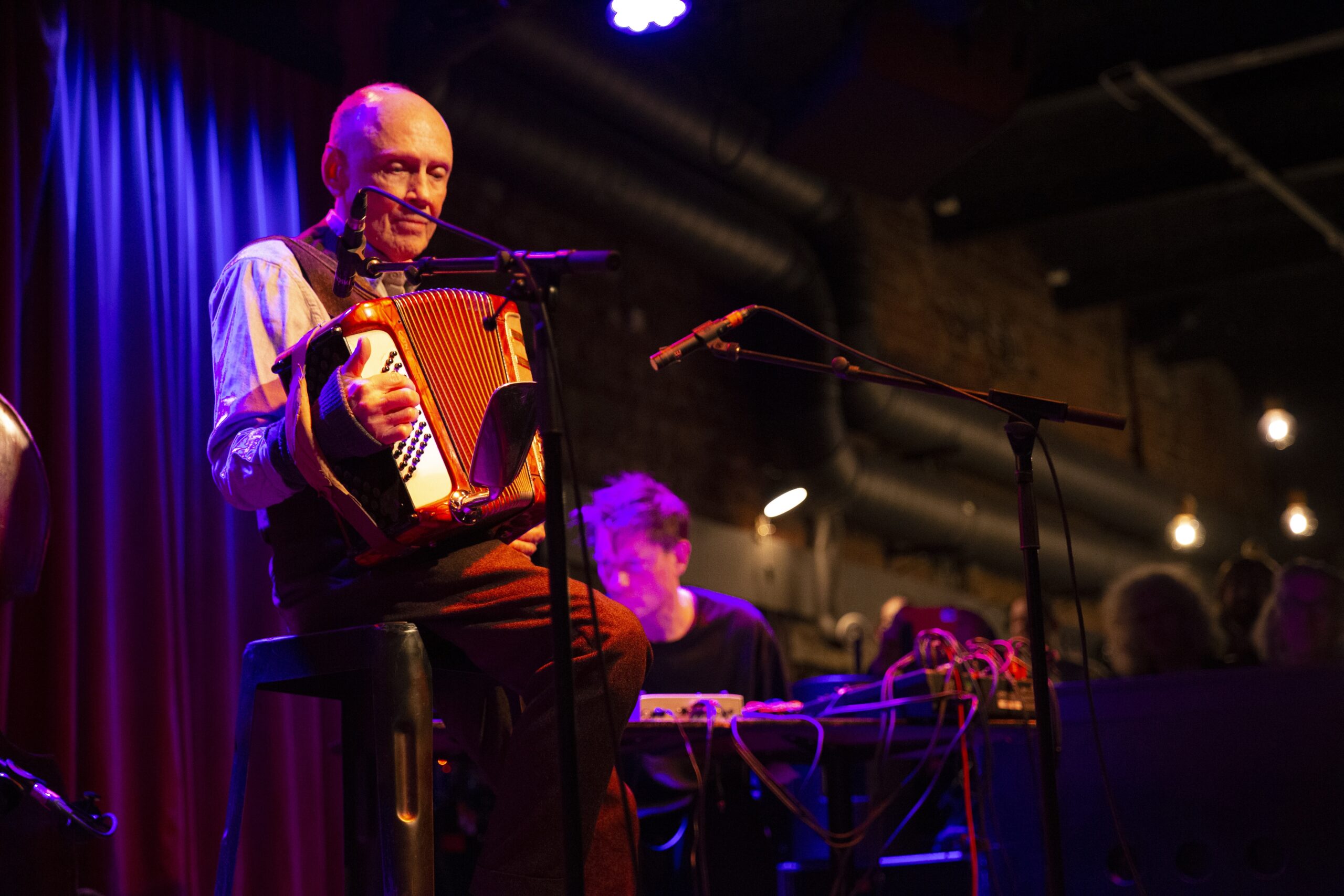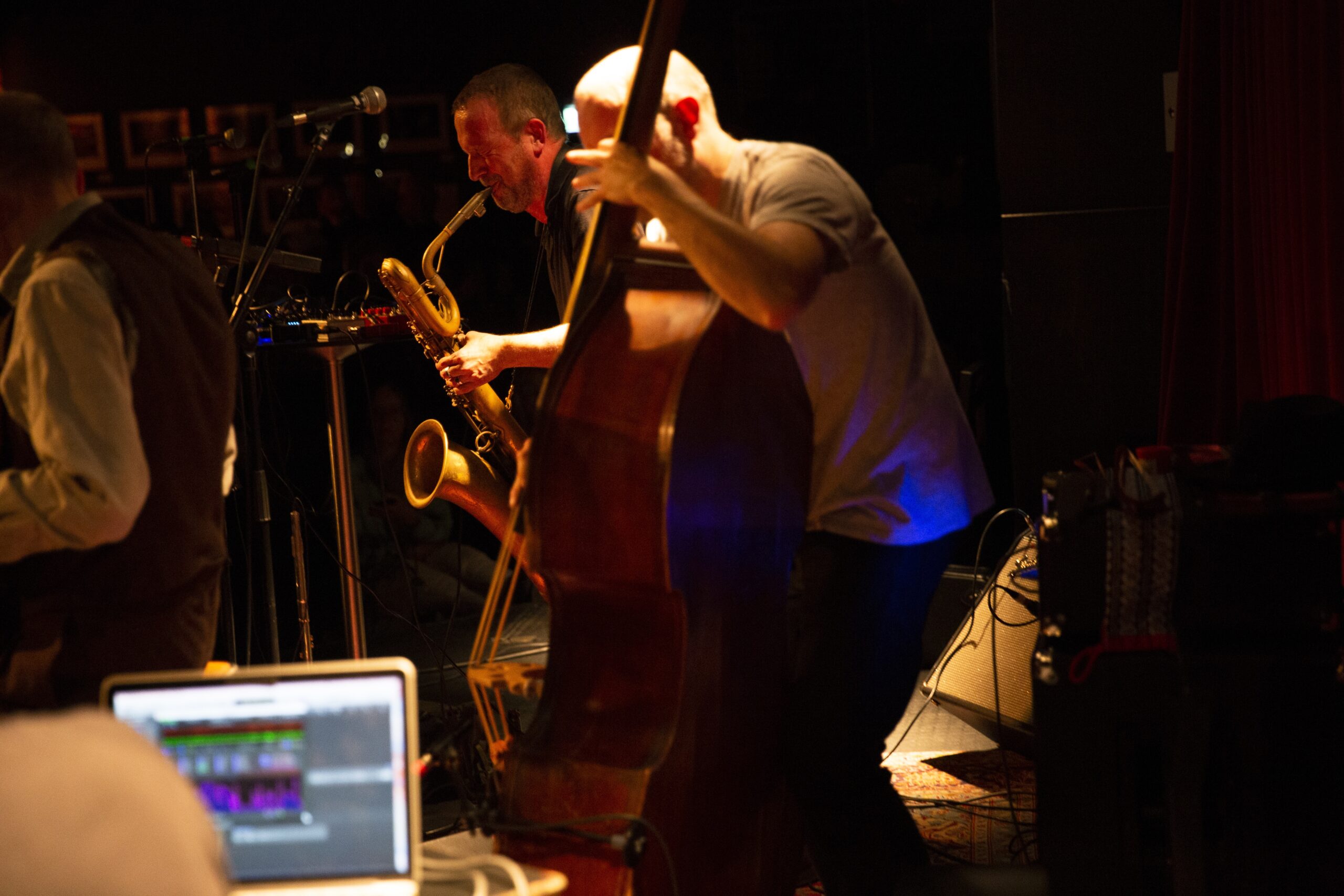 Dreaming of freedom
This is why I'm getting off the train here, in Stockholm, in this city where I spent so much time almost 25 years ago. I'm back in this city, which I admit I still have warm feelings for. I'm not going to paraphrase Fred Åkerström's line in his love letter from Oslo, more than sixty years ago, to his then five-year-old daughter, and say, "You know and you notice here in Stockholm / That Stockholm is now Oslo when I was a boy."  No, not only because that would be a lie, but also because the twin cities – the two capitals of the old twin kingdom – are very different, both now and then.
The reason I'm here is Bengt Nordström. He was a musical bridge-builder to what was to come: largely unaccepted in his time, but later elevated as a spearhead of a new avant-garde. He was born in 1936, the same year as John Tchicai, Albert Ayler, Don Cherry and Chris McGregor. Coincidence? Hardly! When the young orphan boy was 14, in 1950, he came upon jazz by chance, as he told The Orchestra Journal in 1985. "It took care of me in a way that nothing else and no one else had done", he added in that interview. Towards the end of his life, he gained almost legendary status among new and young generations of free-spirited Swedish musicians. Bengt Nordström died in 2000 – and now, over twenty years later, he is celebrated as an innovative force in Swedish improvised music.
The fabled recordings by himself and others, self-produced recordings that he hand-sold from his carrier bag for a few quid, can fetch many thousands of dollars today. Unattainable for the average jazz record collector – unless you are a member of Discaholics Anonymous. With the exception of a CD release of recordings made in the studios of the BRA house in Gamla Stan, released by Harald Hult and Mats Gustafsson on Blue Tower Records twenty years ago, little of the music from Nordström's Bird Notes catalogue is therefore available to the mere mortals among us. You won't find the vast majority of these records reissued.
So when Mats Gustafsson, together with Thomas Millroth, Fasching and the record label Ni Vu Ni Connu announced a release party for a box with four LPs of recordings from Nordström's catalogue as well as a tribute recording from several of today's young and not so young free improvising musicians, it didn't take me long to book a train ticket to Stockholm and back.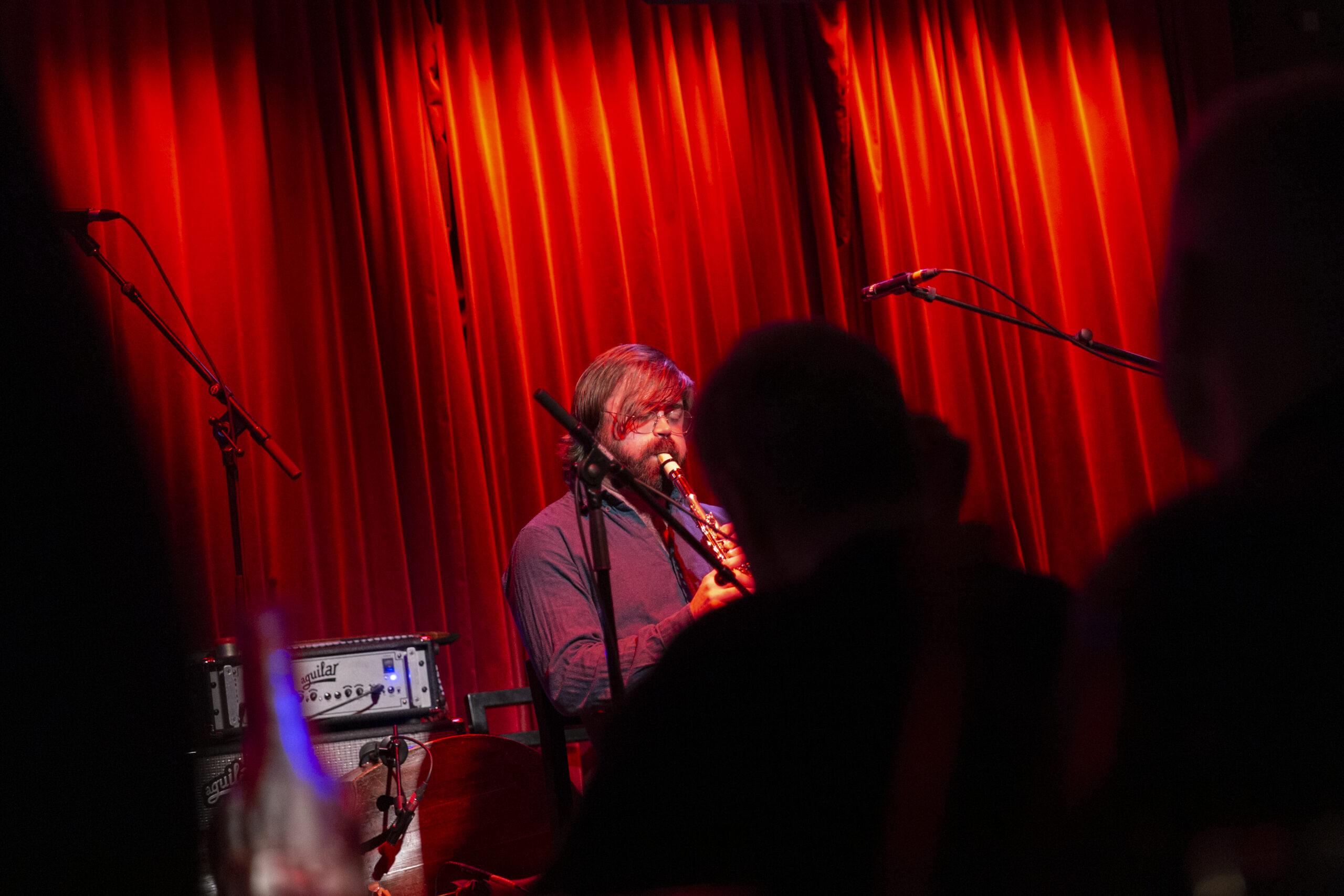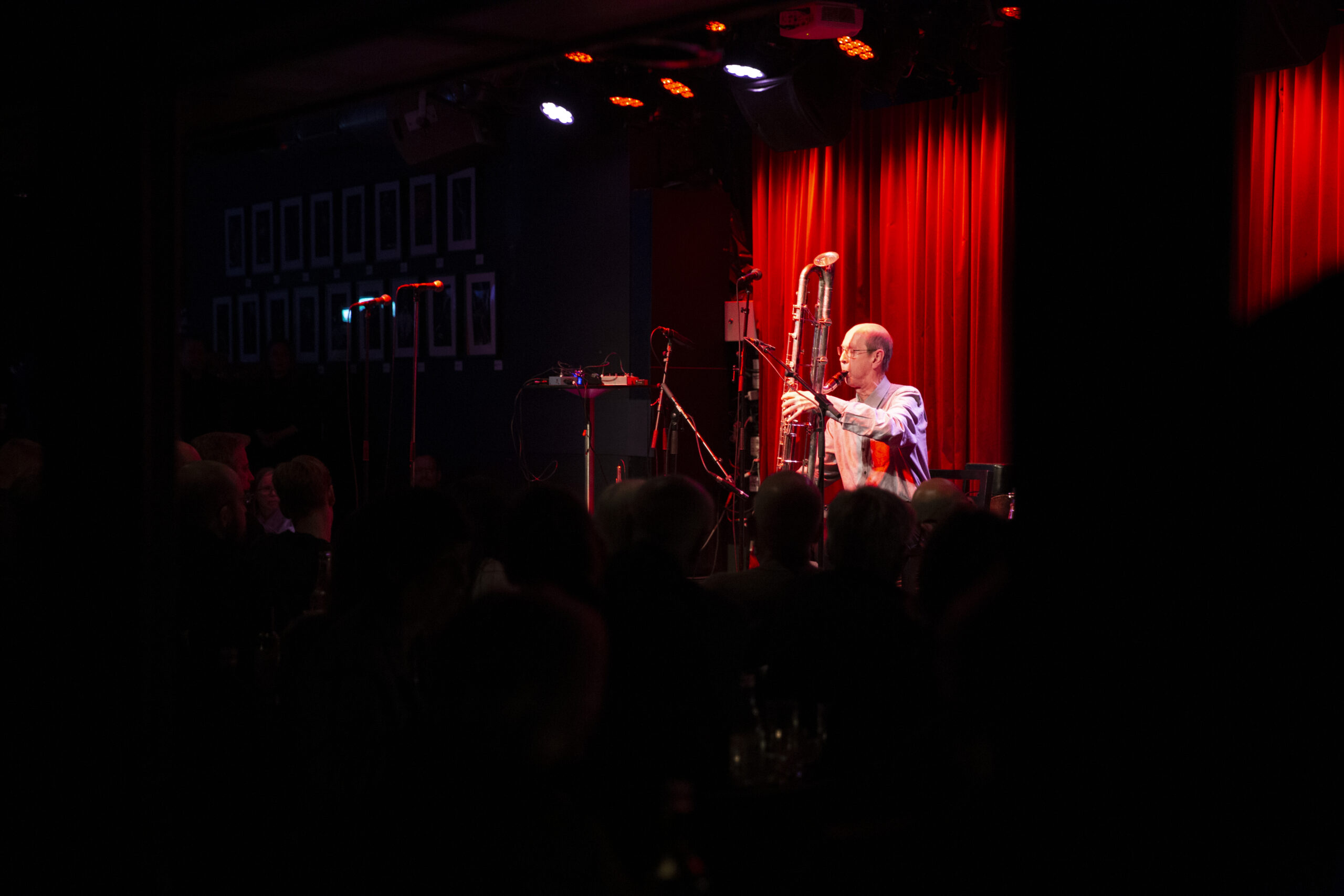 The journey to freedom
Because, of course, we travel by train. It's almost twenty-five years since Norwegian – and Swedish – politicians "screwed it up" when they banned the train company LINX from competing with the airlines after the deregulation and liberalisation of the Oslo–Stockholm route. In doing so, they ensured any significant success – also in commercial terms – to be impossible due to a de facto ban on competition. Only a few years later, the same politicians claimed they would "save the train service" – they had obviously realised their crime. They did so by reinstating 1960s rolling stock that took eight hours between the two capitals. A rescue operation that doesn't exactly elicit our enthusiasm. A solution that we could bear only with a sneer.
But finally something has happened: from mid-December 2022, the railway company SJ set up a combination of Intercity trains and SJ3000 on the line. There are now five trains a day in each direction! If only Bane NOR could get the job done and give these trains highest priority on the Norwegian side (on the journey to Stockholm it took two over hours to travel from Oslo S via Kongsvinger – a distance that should not take more than one hour), then hopefully in a little while we will be back where we were twenty-five years ago, namely, to a travel time under five hours.
Because it should be just as natural to travel by train from Oslo to Stockholm and Copenhagen as it is to Bergen and Trondheim – or to Lillestrøm, for that matter. At competitive prices. The fact that the infrastructure and the operators – Trafikverket, Banedanmark and Bane NOR – in the three Scandinavian sister nations have not long since established full two-track X2000 standard between all three capitals is a disaster and a great sin of omission.
Stockholm is, in every way and in every language, a quiet city to be in. But it will be even quieter when we look forward to the release of the Bengt Frippe Nordström vinyl box. We'll be back with a review of the box and its contents once we've digested it.
I enter the door of Fasching from Kungsgatan, stand in the queue and drop off my coat in the cloakroom as usual. In the doorway into the main room, I'm hit by the impressions, sounds and smells from previous concerts I have experienced here. The last time I was here – too long ago – was over four years ago, when I experienced the Japanese legend Yasuaki Shimizu. You can read my impressions from that time here. Good memories.
But it is the memories of my two daughters' first live encounter with the Esbjörn Svensson Trio – sometime in the winter of 2000, I think – that stand out most clearly. Together we experienced the trio, which at that time was about to explode internationally, from a central place right in front of the stage in this very room. It's these memories that are the strongest and that almost overwhelm me as I enter the room.
But now it's time to meet another legend, in the form of memories and celebration. I arrive in time to get a reasonably good seat in this strange venue. I'm lucky enough to eventually share a table, listening sessions and a few words with bassist Sven Hessle, before, during and after the concert. Hessle is one of the legendary Swedish musicians who have played with Nordström. His interaction with "Frippe" is documented on Bird Notes, and some of this is included in the new box. Just look forward to it.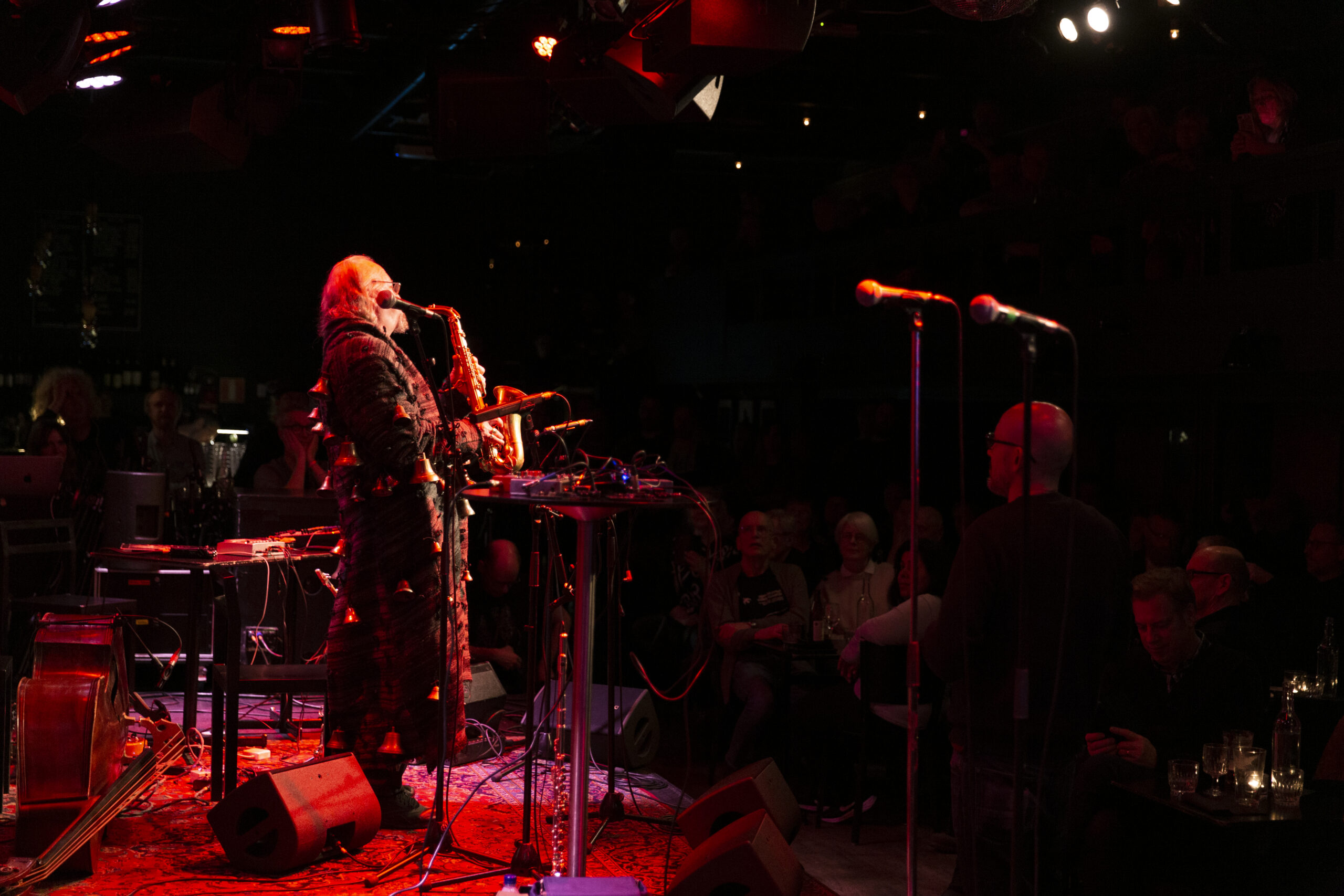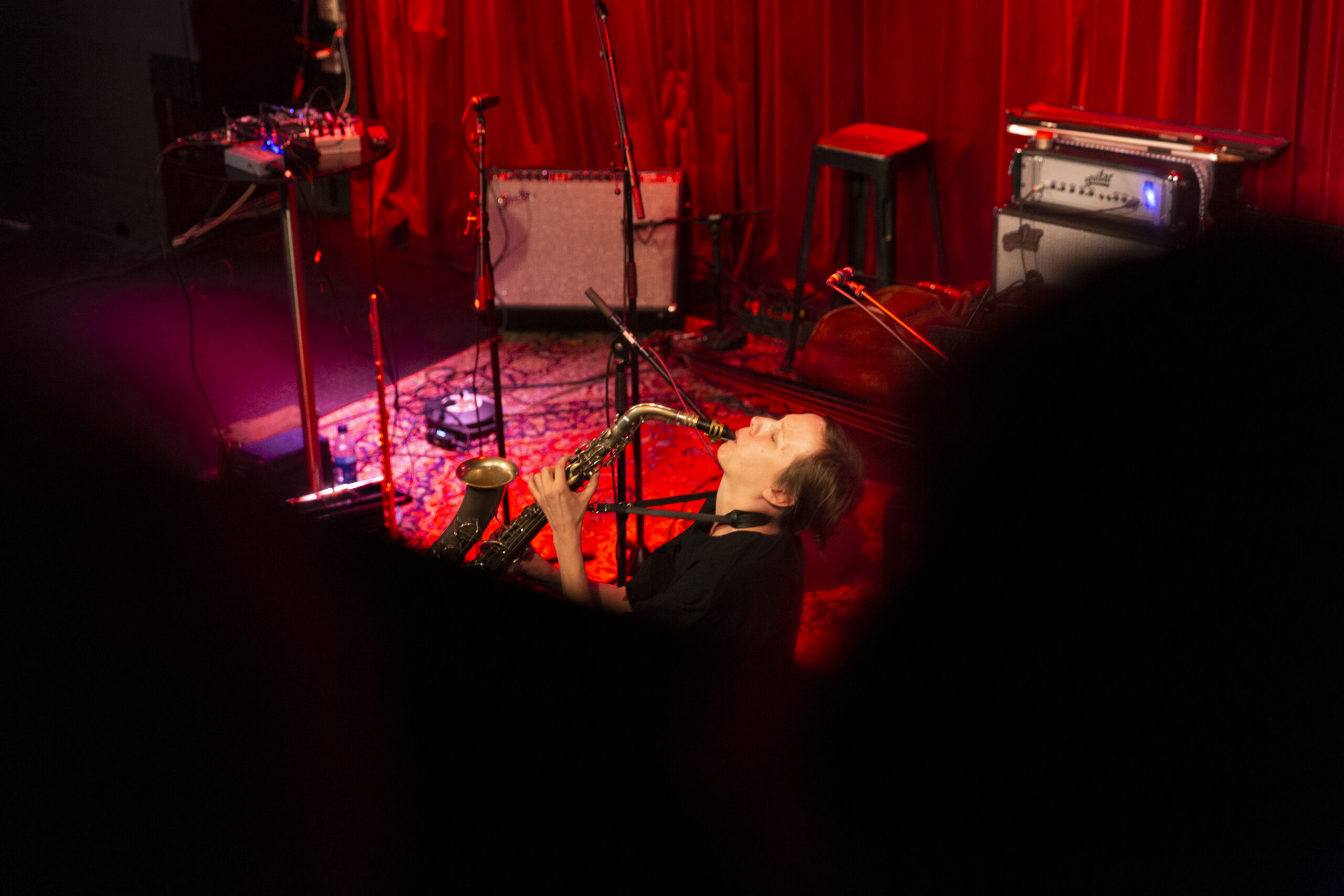 A concert for freedom

But now it's time for a concert and celebration of the legend Bengt Nordström. Mats Gustafsson gives a welcome speech and briefly presents the box – before the first highlight of the day: Torbjörn Ehrnvall's film footage of Bengt Nordström on stage at intermission with tenor saxophone, during a concert by Dexter Gordon at Moderna Muséet, Tuesday 29 May 1973. You can see this film for yourself here.
The first section of the release party continues with four solo sets by four woodwind players, which now become a response to, a commentary on and a development of the introductory film sequence. The same four musicians also play tributes to Bengt Nordström on a 10-inch in the box. The performances this evening will therefore also be a response to this tribute.
First up is Isak Hedtjärn on a metal clarinet, who starts out with small gestures that are allowed to grow like the flower meadow behind the outhouse. The play of colours and light shines in the elongated space of Fasching. Next up is Jörgen Adolfsson on his contrabass clarinet of the "paper clip" type – a wonderful meditation on Bengt Nordström's playing in 1973 – and later also on double bass clarinet.
It's great to hear Anna Högberg again, it's been a long time since I've had the opportunity to hear her. Her playing on the alto saxophone has always been interesting and worth listening to. As I have the impression that Nordström was early to emphasize, she attaches great importance to using the acoustic properties of the physical space as a co-creative force in the music. She wanders out into the room from the back space and on to the balcony along one of the long walls. In doing so, she also comments on the actual sound of the 1973 recording with Nordström that we heard just before. She came to Fasching with her youngest daughter, aged one or two. As Högberg is descending the stairs at the other end of the balcony, we hear her daughter making a few longing comments to her mother and her playing from the back room. Wonderful!
These forms of music often remind me of John Cage's ideas about chance in music, about how the composer's opening up to them and incorporating them can create genuinely new and interesting music. Along with the obvious lesson of his work 4:33: you have to learn to listen to all the sounds in the environment, the environment that music always lives in, responds to and is responded to by. No two performances are the same. These were ideas that were revolutionary in 1957, but are obvious today.
When Dror Feiler follows this up with his alto saxophone and his bell-equipped coat, it underlines even more strongly the importance of aleatoric elements in the music. His physical movements in and through the room and with the saxophone draw comments and chimes from a couple of dozen bells.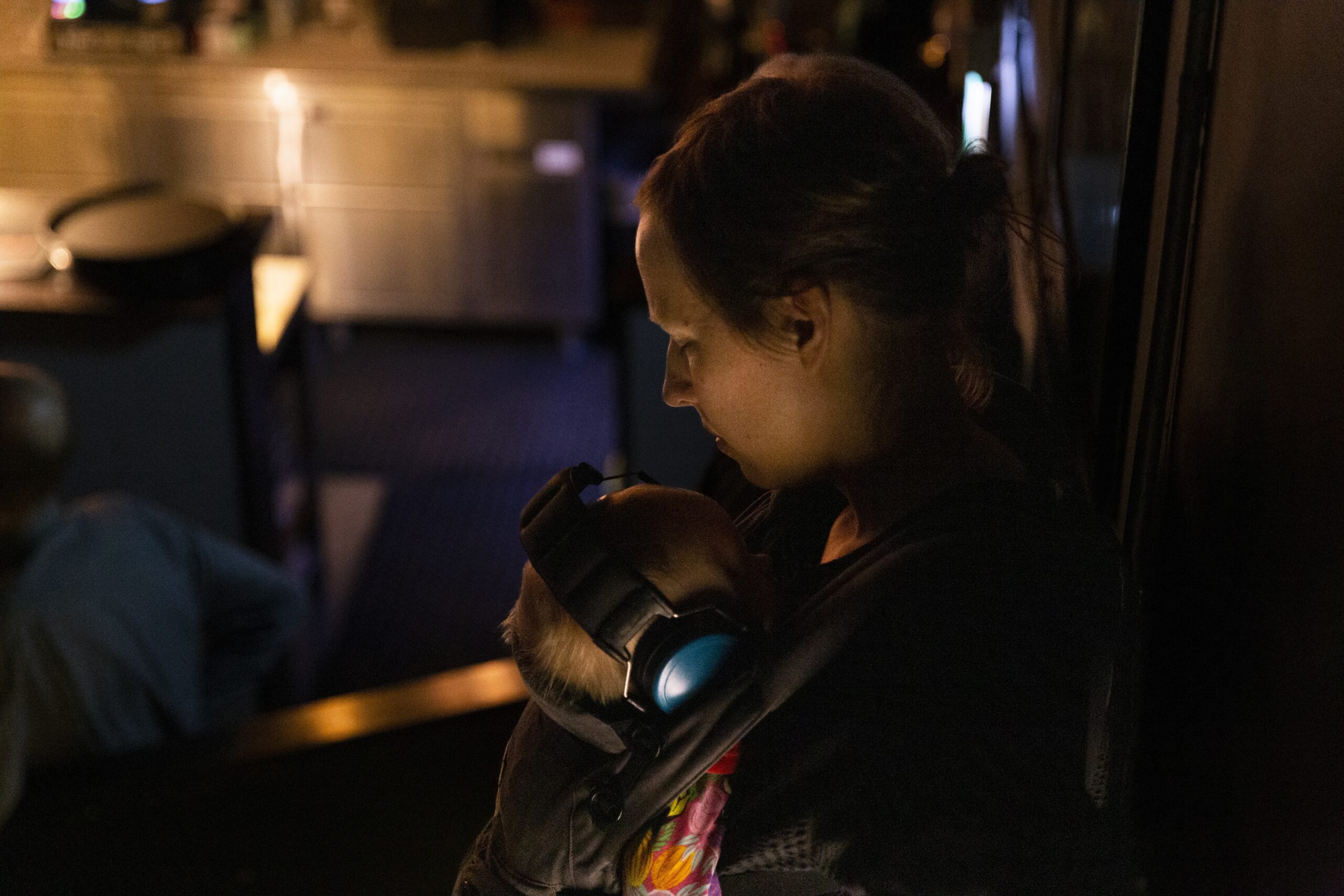 If freedom had a name
A documentary feature film by Thomas Millroth about Bengt Nordström and his music is in preparation. As a taste of what's to come, the first item in the second set was devoted to a screening of a nearly ten-minute trailer with excerpts from the upcoming film. I can only say one thing: for anyone who has the slightest interest in modern Swedish jazz history, you're in for a treat.
The last part of the evening's second section will be readily available, long afterwards, among the rich memories of what was a very memorable evening. A brand new band constellation – not that it's all that new in Mats Gustafsson's immediate surroundings – is about to be launched. But it is the composition and the musical palette that fascinates:
The quartet If a Name is initiated by Mats Gustafsson on saxophones, flutes and electronics. He is joined by Johan Berthling on guitar and bass, not surprisingly – the interaction between the two could be experienced not least in the trio Fire! and the extended big band Fire! Orchestra. Germany's Jan St. Werner is known from the electronic duo Mouse on Mars, among others, under various names. It's not often that the professor at the Nuremberg Academy and former visiting artistic director of STEIM in Amsterdam travels abroad. But now he's here.
Play in the moment, listen in the moment! You have to be present in the moment, that is the oft-quoted mantra about this improvised music, which was once characterised as free-form. More than the absence of form, this signalled that it broke with conventional notions of form. What you call it is irrelevant. What is relevant is that it is not formless. It has a form, but it is a form that also grows out of the moment – in collective phenomena and evolutionary theory we speak of emergent properties. Form is one such emergent property. But it goes so much deeper than being in the moment.
And then… Sven-Åke Johansson on accordion. A kind of SÅJ homecoming? The legend has seemed more like a distinctive part of the German improvisation community in and around Berlin, but always open for connections and collaborations with Swedish musicians. There is something "quite fascinating" about these, shall we dare to call them outsiders, in Swedish jazz in the decades after the mid-1960s. Johansson, along with Nordström and a number of others, is among them. It may be worth reminding ourselves of this at a time when what was once a marginal and often misunderstood musical expression is now in many ways the mainstream of contemporary music.
For form is created by conscious artists, who shape and are shaped. Also through agreed – and thus form-determining – contributions. When the trio of Gustafsson, Berthling and St. Werner have warmed up, Sven-Åke Johansson comes on stage with his accordion. As he steps onto the stage, thoughts run through this listener's head of how central the influence of the popular accordion has been in Swedish jazz, albeit indirectly. Not least, I would say, in the time after the Paris Orchestra returned home in the early summer of 1949, after the success at the Paris Festival International de Jazz.
When then Johansson also – perhaps unsurprisingly – delivers references and quotes from (the Swedish schlager) Flickorna i Småland (The Girls in Småland), among others, the room bubbles over. But even better, when the introductory footage from Moderna Museet by Torbjörn Ehrnvall is put on and shown on the back wall, it's as though you witnessed the enormous colour chart of the mixing machine for paint, peinture, färg, that you find in your average hardware store explode. The roof of the low, narrow, strange building sandwiched between a variety theatre and an arcade rises as Gustafsson & al. respond to and comment on Bengt Nordström's performance from May 1973. Johansson's playing with and responding to Nordström's play allows this evening to end in the best of all ways.
This evening I felt that we grasped eternity in the moment. For it is as Karin Boye writes in her poem Eternity, in 1935:
Once our summer was / an eternity long. / We roamed in sunny days / without end once. /…
Where did our eternity go? / How did we forget / its sacred secret? / Our day was too short…
But yet timeless / splashes fall into our arms / a moment when we are away / from goals and names, /…
Then we sense the condition / we were once given: / to burn in the living / moment, / and forget the temporal, / which lasts and lasts / for the creative second, / which measure never reaches.
What an evening, what a community… I'm already longing to return to Stockholm.
See you again – for new dreams of new eternities.
Edited automatic translation.
The original post in Norwegian appears on salt peanuts*.
Related